Above Photo: Dr. Jingren ZHOU, Vice President of Alibaba Group, discussed key  trends in big data and cloud computing at Alibaba Technology Forum in Hong Kong.


Hong Kong, June 17, 2016 -Alibaba Group and Hong Kong Polytechnic University hosted a technology forum for nearly 300 students today to discuss key opportunities, trends and challenges in big data and cloud computing. The Technology Forum covered topics including innovations in elastic computing, machine learning and big data development, and how these innovations can address a range of different business needs and challenges.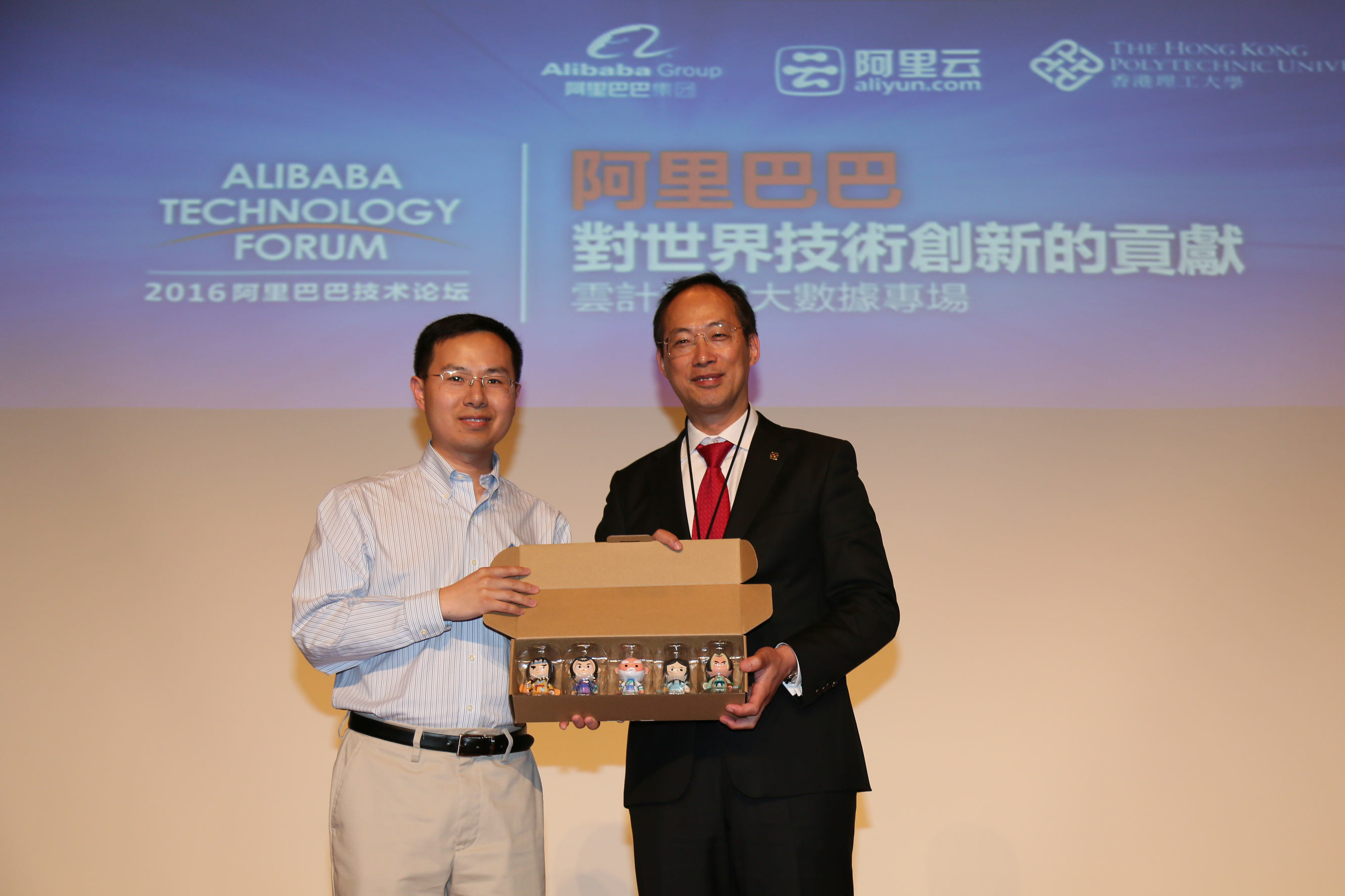 (From left to right): Dr. Jingren ZHOU, Vice President of Alibaba Group, presented gift to Professor Alex Wai, Vice President (Research Development) of Hong Kong Polytechnic University
Dr. Jingren ZHOU, Vice President of Alibaba Group, presented an overview of Alibaba's innovative Big Data Computing Platform (BDCP), which consists of a wide range of products and services which enable fast and efficient big data development.
Since its establishment in 2009, Alibaba's BDCP has expanded its coverage from China to US, Europe, Middle East and South East Asia, with more than 8,000 developers and over 1,500 applications. BDCP's technology not only supports Alibaba's internal businesses but also provides services to enterprise customers worldwide.

Dr. Zhou also demonstrated how BDCP utilizes data visualization, making it useful for a wide variety of industries, including transportation, healthcare, water conservancy and human gene analysis.
"Alibaba Cloud's big data and cloud computing technologies are not only contributing an enormous amount to the ongoing development of the wider technology industry, but also empowering enterprises in various sectors such as finance, energy, gaming, entertainment, healthcare and education. Today's forum allows us to showcase these world-class tools to help inspire students to become the technology leaders of tomorrow," said Dr. Zhou. "To us, supporting future talent is as important as growing the cloud computing ecosystem, and we're delighted to be doing both."
At the same event, Dr. Wei CHU, Director of Engineering, Alibaba Cloud, introduced the Distributed Machine Learning Platform and its applications – also known as Platform of Artificial Intelligence (PAI). PAI supports customers by providing complete solutions for various business scenarios including advertising, search and finance. Dr. Xianglong HUANG, Director of Engineering, Alibaba Cloud, shared his insights on the evolving virtualization techniques in elastic computing and the future roadmap for helping more enterprise users. In addition, Dr. Qian Zhengping, Staff Engineer of Alibaba Cloud, shared the latest development of real-time computing, and how it facilitates increasing demand for applications such as online payment and traffic monitoring.
This event is part of the Alibaba Technology Forum (ATF), which is an annual event organized by Alibaba Group. Previous editions of the Alibaba Technology Forum (ATF) have been held at Stanford University, Hong Kong University of Science and Technology, Peking University and Beijing University of Posts and Telecommunications.

About Alibaba Cloud
Established in September 2009, Alibaba Cloud (intl.aliyun.com), Alibaba Group's cloud computing arm, develops highly scalable platforms for cloud computing and data management. It provides a comprehensive suite of cloud computing services to support participants of Alibaba Group's online and mobile commerce ecosystem, including sellers and other third-party customers and businesses. Alibaba Cloud is a business within Alibaba Group.