(23 June 2016, Hong Kong).  TNG Wallet allows Cash Withdrawal, Bank Transfer, P2P, P2M, Bill Payment, Donation, online and offline payments.  The company launched P2P transfer last year in November 2015 and has accumulated 300,000 users to date. Founder and CEO of TNG, Mr. Alex Kong, says there are now over 500 retail outlets and 32 Pricerite outlets already adopted the TNG Wallet.  The company is in the midst of developing a Fintech Index, to regularly report MAU (Monthly Active User), which will be audited by professional audit companies.  Kong expects the company will acquire 1,500 more merchants by the end of this year.
SFC Approval
Kong says TNG activities have to be regulated and approved by the SFC, in this respect, the company setup a segregated custodian account, under a bank's custodian arrangement, thus in the worst scenario, i.e., 100% of its users withdraw all their cash at once, Kong claims there should not be any problems.
Fraud Protection for Merchants
TNG has to comply with the following three main regulations, (i) Anti-Money Laundering, (ii) Counter Terrorist Financing, and (iii) Transaction Monitoring, etc. In this respect, for all transactions, the company uses a real-time check to check the name of the user, against a global database to see if the user is listed as a High Risk user, domiciled in Sanctioned Countries, or on the Terrorists List.
API for Website and App Developers
TNG target customers are SMEs, and eCommerce operators and provides API so merchants can receive payments.  Kong highlighted that this is useful for those who wish to avoid high credit card fees.
Low Costs for SMEs
TNG Wallet allows merchants to receive payments T+1, i.e. merchants can receive payments on the next day.  The average transaction cost of TNG Wallet is between 1 to 1.5%.
Cash Withdrawal – 27 Hotspots
TNG users can withdraw cash up to HK$50,000 per day, on 365 days a year.  TNG partners with Money Changers.  Currently, there are 27 hotspots offering round-the-year cash withdrawal cash facilities, and they are located near MTR stations, many are opened until 10:00pm.  No service charge nor handling fees for the users.
Bank Transfer to more than 20 Licensed Banks
Users can transfer money to their own personal registered account in 20 licensed banks in Hong Kong (no handling fees).  There is no transfer limit, and the cut off time is 4:00pm, i.e. settled within one working day at the earliest (next working day settlement for transfer submitted before 4pm).  To register for the Bank Transfer service, the user is required to upload his or her bank statement, this is to ensure the bank statement's name matches with the HKID's.
Competitive Edge over Apple Pay, Samsung Pay
Kong says a merchant who adopts Apple Pay or Samung Pay etc. normally gets charged 3 times:
 The Issuing Credit Card / Bank

 The Merchant's Acquiring Bank

 Apple Pay (Apple Company)
while TNG Wallet only charges the merchant between 1 to 1.5%
There is no need for the customer to touch the TNG reader, as the user do not need to stand very close to the reader in order to pay.  Another advantage is that there is no need for NFC, as TNG Wallet does not require read and write function.
Other Services Launching Soon:
Bus Pass. TNG already signed agreements with several bus and minibus companies, and the license is currently pending Transport Department's approval.  The company will provide TNG reader devices to the transportation companies, and the payment will initially be under Pilot Scheme for certain routes first.  The benefits of using TNG, Kong says, is that TNG will provide useful CRM and big data information, so that transportation companies can reward loyal passengers with, for example, coffee coupons.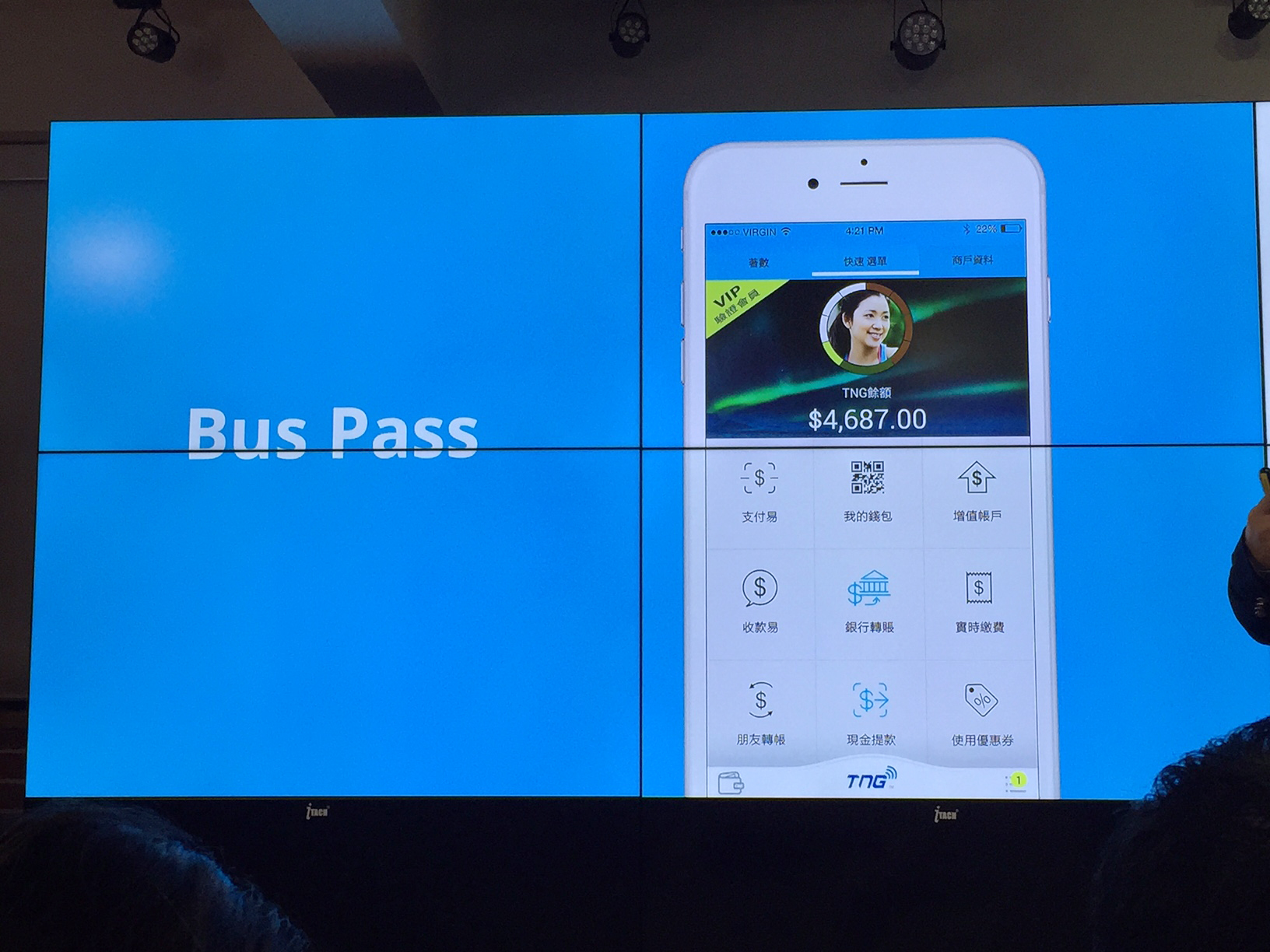 TNG Wallet supports offline transactions, i.e. no internet connection is required, TNG Wallet reader makes use of beacon and bluetooth.  The user's smartphone senses the beacon, the Bus Pass screen will pop up, and the user scans and pays.  No transaction PIN is required.  TNG Wallet supports all types of fares (children and elderly fares etc.)
Coin Purse. This applies to retail outlets, the user can set the maximum limit per day, and can also set the maximum value per transaction.  No transaction PIN is required.  If the customer previously joined the merchant's membership club, his/her Virtual Membership Card will appear on the smartphone, which displays how many loyalty points the user has left with the merchant.
Smart Watch. No NFC is required, Kong pinpointed that more than 80% of the merchants in the market are not equipped with NFC readers, in this respect, if the customer has a smart watch, all they need to do is to walk near the cashier, and the smartphone senses the beacon and bluetooth, the QR code will then pop up on the customer's phone, and the customer just need to scan his/her's smartwatch in order to pay.
3-Tier Membership Structure
Kong introduced the 3-Tier Membership Structure, for more details, please see:
http://www.missqt.com/payments/tng-wallet-makes-big-leap-with-2-0-version/
In essence, for Normal Member, no registration nor verification (e.g. HKID, Address Proof) is required.  The user needs a Hong Kong mobile phone number, and it takes about 30 seconds to activate the service.  This should allow TNG to reach 80% of the Hong Kong users.  However, this tier does not allow users to use their credit card to top up.  The Annual Transaction Limit is HK$25,000, and the Store Value Limit (at any time) is HK$3,000.
To register for VIP Member, the user is required to upload their HKID Card, and TNG will review and approve the application.  The Annual Transaction Limit is HK$100,000, and the Store Value Limit (at any time) is HK$50,000.
To become a Super VIP Member, the user is required upload HKID card, and need to conduct face to face account opening with TNG staff, to validate HKID Card and Address Proof, this is to comply with SFC requirements.  There is no Annual Transaction Limit, and the Store Value Limit (at any time) is HK$100,000.
To conclude, Kong says TNG's goal is to create a Cashless Society and Cardless Society, and the company's KPI is safe, reliable, and fast payment transfer.  The company is looking to expand to other markets – Singapore, Indonesia, The Philippines, and Thailand.  Without doubt, we see steady progress in Payment, P2P, P2M Fintech Development in Hong Kong.