Rise Conference 2016, 31/5, Machine Stage
Sonny Vu (Fossil Group), Barbara Minuzzi (Investhaus and IH Ventures)
Technology and fashion are overlapping like never before, with wearables being the most obvious example of this. Sonny Vu, who's gone from the head of Misfit to Fossil, manages partnerships with a dozen-plus major fashion brands and describes how the link between the two worlds is necessary and beneficial.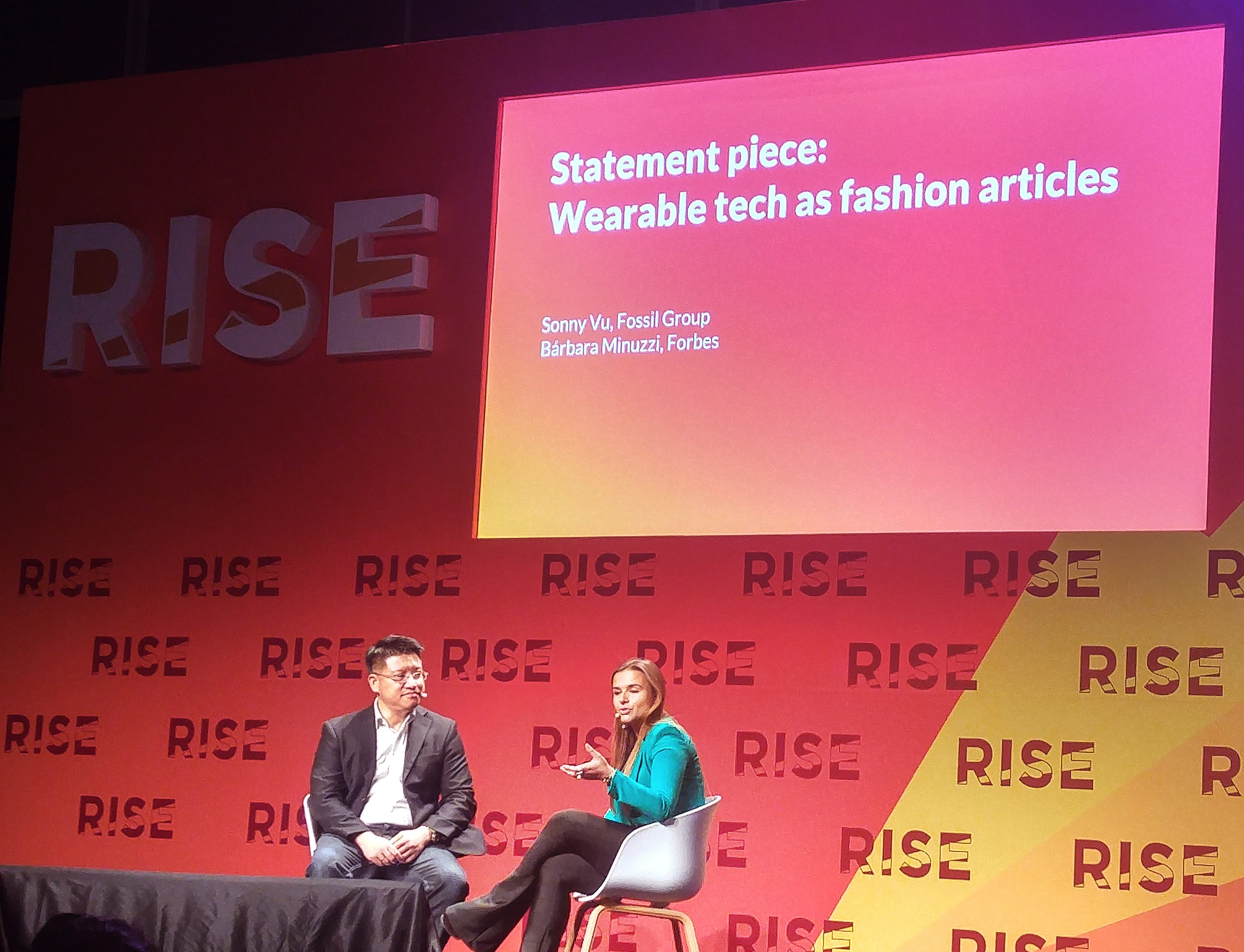 Sonny founded in 2011 Misfit a technology start up on wearables. Unlike Jawbone and Fitbit who try to launch their own techy-looking product, Misfit took a different-route – partnering with traditional fashion brands, Speedo and Swarovski to name a few. Misfit raised about $63 million in venture capital in three rounds of funding. Investors included Xiaomi, GGV Capital, JD.com, Horizons Ventures, as well as Founders Fund, Khosla Ventures and Norwest Venture Partners. In 2015 Fossil Group bought Misfit for $260 million. "Imagine how 200+ engineers and cloud technicians are working side by side with Swiss watchmaking craftsmen. How cool is that marriage!" Sonny joined Fossil after the merger, taking the wearable product niches to over twenty Fossil operates brands like Michael Kors, Armani, Kate Spade, Diesel, DKNY etc. In 2016 Fossil is launching 100 wearables across eight brands.
Fossil has sold over 50 million "connected" watches and accessories, in which 35 million are watches. How come Fossil succeeded in wearables while some other brands are struggling? "Two reasons. First, Fossil's brands and Misfit team have a shared interest to make wearables relevant, fashionable. Second, we have a goal of getting the best in both worlds, to have wearables changing the personal lives."
Wearables is no longer just a plastic strap of flashing lights on your wrist. It can be fashion. "People want things much more wearable but doesn't look like wearable technology." Sonny's team is leading the effort to combine great fashion brands and technology know-how, solving the pain points such as charging the device. Traditional fashion items do not require charging. Can we make wearables free from charging? "Very difficult. How about charging the device two times a week? Not great unless it has a lot of benefit. How about six months of battery life? Fossil is already there."
"Fashion is customization, it is about self-expression, which is very difficult from consumer electronics perspective." Sonny elaborated. "A successful tech start-up may launch a few products a year at best. In the fashion world, it produces a few dozen new products a year." The key of success for wearable fashion is "staying culturally relevant."
We are no stranger to "sports and performance" wearables, which have activity trackers that are used during workouts. At best we may wear it three hours a day. However, "some people just want things that fits their lifestyle. How about wearing it 21 hours a day instead of 3?" Sonny believes wearable fashion has to be broad reaching. There are mainly three categories of wrist wearables: fitness bands and trackers, display smartwatches, and hybrid smartwatches that looks like traditional watch but connected. "For men, there is always room for luxury watches like Rolex. People who pay $100k+ for watch don't just buy it for telling the time. These watches can be connected and stay relevant. However, that just reach less than 1% of the mass market. We target watches of price range $50-$100. The mass market. This is where stories are to be told."
How about wearables for women? "It has a very high bar. Wearables on the body is for self-expression. Over last few years we are getting better at this."
And kids wearables? "Some products have appeal, but this segment is difficult in general. How do you keep these devices to stay on the bodies?"