Wearable Technology Conference is the premier conference in the field of wearables.  Every year it is held in the US, Europe and Asia.  This year Hong Kong has the privilege to host the Wearable Technology Conference 2016 Asia at the Hong Kong Science and Technology Park.  The event was filled not only with talks by experts but also with the demonstration of the latest gadgets.  It is indeed a fun event.
One of the speakers is Paul Pugh, the founder and chief designer at Airline Design.  Paul has worked with the some of the largest global companies like Amazon, Microsoft and Apple in product design.  Airline Design, based in Tokyo, is focused on hardware/software integrated products including wearables for health, fitness and fashion.  Before that he was the Vice President of Connected Fitness Products at Under Armour.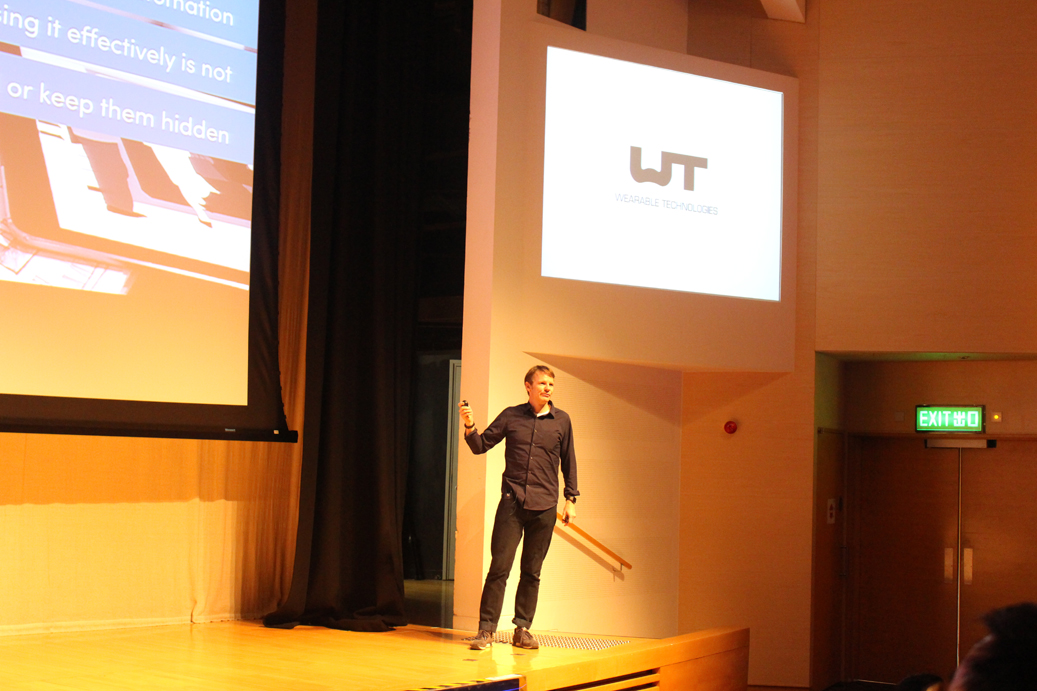 Paul's talk is titled "The Body as Interface and Understanding What it is Telling You".  One of the major applications of wearable has been in sport.  Wearables has been deployed to help athlete to detect their movements and improve their performance.   Companies selling running shoes and athletic clothing have been analysing those data so their products can improve the performance of the users.  Sensors are deployed in shoes and clothing to record athletes' movement accurately.  But Paul thinks it is only wearable 1.0.  In 2.0, the data will be used in a real time basis to give immediate feedback to athletes to give better performance.  That requires a better integration between sensors and softwares.
Another major application is in the area of health care.  When we get off the planes and go through the customs, our body temperature is monitored by the airports.  The idea is that our body broadcast important health information.  If wearables can detect those signals in a non-intrusive manner, many fatal diseases like heart attack may be avoidable.  Also wearable can be deployed to detect our sleeping pattern.  After all  many people suffer from sleep disorders.  In fact, there is a product called Pavlok that give jolts to wake up the user.
There are also devices under development that can detect our emotions and stress level.  Combined with artificial intelligence, the goal is to improve our quality of life.  Many devices like Apple Watch and Fitbit are to be put on the body.  To attract the consumers to use the products, the consumers have to like it.  That's how product design comes into picture.  So a great challenge is to combine the utility and beauty so that the consumer is willing to use the devices and to benefit from them.